Leaving the competition breathless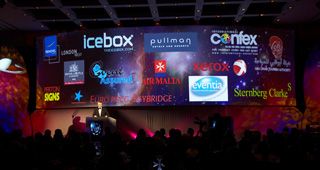 February's challenge was to blow away the audience at the Meeting and Incentive Travel awards. The enormity of this challenge was that the audience was made up of our competitors… To see the case study of the services we provided for the M&IT Awards, please click here.
'It's much harder to impress your competitors than it is the general public as they have the insider knowledge.' Stated Special Project Director, Ron Gilmour. 'So, to have industry experts approach me post-event for an explanation of how we did it is really flattering for the company and just proves that we are really pushing the boundaries with our awards ceremonies!'
In brief we installed a number of projectors, and distorted the picture using image correction facilities that are typically utilised for projecting onto a flat surface at an angle. By distorting the images and blending each projector into the other, a seamless moving backdrop of stars and planets was created around the curved screen.