Comtec Presentations Nominated For Major Event Award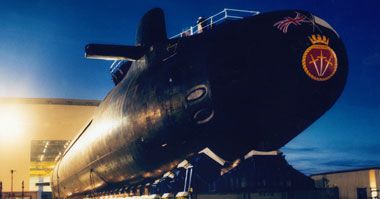 Ocean Odyssey – The H.R.H launch of a nuclear submarine and subsequent party for 7,000 people has been short listed in the 'Best Event' category at this years AEO Excellence Awards.
The event which was organised by Comtec Presentations on behalf of BAE Systems was staged within the Devonshire Dock Hall,
The largest indoor nuclear submarine facility in Europe. As well as requiring the very highest level security checks on all staff and vehicles working on-site, this venue posed it's own unique challenges. In total the event took a week to build and required over 130 crew and excellent project management skills.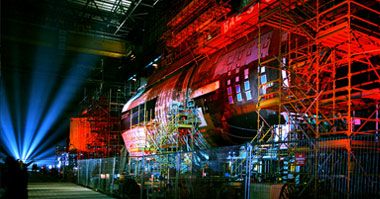 The submarine was launched by the Duchess of Cornwall and the event was covered live by all major UK Press and television networks for features on Sky News, BBC, ITV and Channel 4. The Royal Navy, Rolls Royce and Discovery Channel all required specific footage for their own productions.
The AEO Excellence Awards are organised by the Association of Event Organisers, the trade body that represents companies which conceive, create, develop, 
manage, market, sponsor, supply or service trade exhibitions and consumer events. The AEO is a completely independent body, which is run by its members for the benefit of it's members – through an elected council of representatives, specialist working groups and full time secretariat.
The AEO Excellence Awards 2008, will take place on the 4th June at Earls Court 2, London.