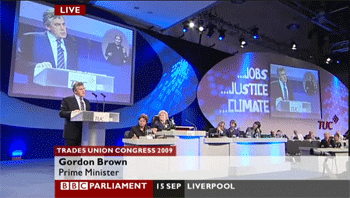 Here at Comtec we featured on BBC News with two high profile speakers at two separate events on one night; Tony Blair at the Ethnic Oscars and Gordon Brown at the TUC.
Gordon Brown addressed the TUC delegation in Liverpool's BT Convention Centre on 15th September about the state of the economy.
 This year's TUC was held in Liverpool for the first time in over 100 years and this was the 12th consecutive year that Comtec Presentations had held the account.
This year's AFL-CIO, the American equivalent to TUC, is running concurrently meaning that the President from the AFL-CIO and General Secretary from TUC have been able to address each other's delegations across the Atlantic.
At the same time, Comtec were also in London at the GG2 Leadership & Diversity Awards at which Tony Blair spoke about faith and beliefs to the audience who attended the glitzy awards ceremony. The awards were held at Grosvenor House Hotel in the heart of London's Mayfair.
The awards celebrated the success of diversity and leadership in the UK amongst ethnic minorities. This premier ethnic awards ceremony includes awards ranging from GG2 Man of the year to the Hammer Award recognising individuals that reach a rare position of influence and authority.